Another Open Source Reimplementation: OpenTomb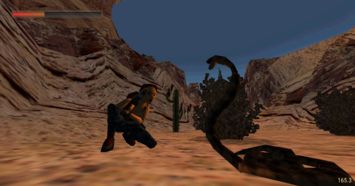 It looks like that there's another open source reimplementation for a popular game series which I did not recognize earlier. OpenTomb is be among these, supporting Tomb Raider 1-5.
OpenTomb is an open-source engine reimplementation project intended to play levels from all classic-era Tomb Raider games (TR 1—5) and custom TRLE levels. The project does not use any old Tomb Raider source code, because all attempts to retrieve sources from Eidos / Core were in vain.

Instead, everything is being developed completely from scratch. However, OpenTomb uses certain legacy routines from such unfinished open-source projects as OpenRaider and VT project (found at icculus.org), plus it incorporates some code from Quake Tenebrae.

All in all, OpenTomb tries to recreate original Tomb Raider games experience, although with contemporary updates, features and additions — to fully benefit from being running on modern PCs with powerful CPUs and graphic cards — unlike original engines, which are getting older and older (original engine, on which all classics were based, will turn 20 next year).
0 Comments Jul 20, 2016 Gaming Permalink share to diaspora*